Laminate
Kaindl laminate flooring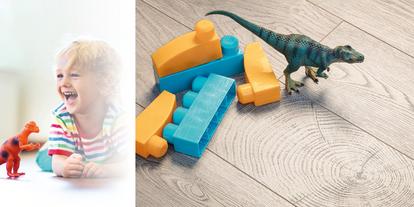 Quality products.
Made in Salzburg.
Laminate flooring from Kaindl – durable & innovative
They are robust, easy to lay, lightfast and uncomplicated to clean: Laminate is justifiably popular as a flooring. Thanks to the diverse decors and technological expertise of Kaindl, laminate not only looks good but it is also feels authentic and natural. You are looking for further arguments with which you can make your customers enthusiastic about laminate floorings from Kaindl? We have compiled the most important facts about laminate for you.
What is laminate? Definition & technology
Laminate is the name given to a flooring with a multi-layer build-up. It consists of a HDF substrate with backing, a modern decor and a wear-resistant surface layer. The laminate flooring per se has developed enormously in recent decades. In the meantime, the flooring is not only available with a wood look. Tiles, concrete and stone looks are also increasingly in demand in the industry and among consumers.
The advantages of laminate compared to other floorings:
Laminate is particularly hard-wearing and lightfast
Easy to clean
Healthy flooring
Favourably priced alternative to parquet
Laminate is easy to lay
Robust, resistant and abrasion-proof
Large choice of decors
Easily combined with impact sound insulation
Production uses resources carefully
The special feature of laminate floorings by Kaindl
With decades of experience as a laminate flooring manufacturer, Kaindl is able to impress with particularly resistant floorings and unusual decors. Thanks to the realistic, natural surfaces the laminate floor feels almost like a real wooden floor. Another advantage of Kaindl laminate floorings lies in their easy laying: Thanks to the Kaindl LOC system the flooring can be laid easily without glue.
What you should pay attention to when buying a laminate flooring
In which room is the laminate flooring to be laid? What spatial effect do you want to generate? Whether for the private home, office or hotel room: The right choice of laminate depends, of course, on the intended application and the type of room. The room size, the interior design concept and the light mood are also decisive. Light or dark, 8 or 12 mm, long and wide boards, multi-strip and much more: Laminate floorings not only differ in their thickness, in the board size and in the decor pattern. Apart from the colour, decor and surface texture, the chamfer and the laying profile can also be decisive when choosing the suitable laminate flooring. One of the most important selection criteria is the wear class also known as the use class.
Different use classes (categories) for laminate
A differentiation is made between use classes for private domestic use and commercial use depending on the intensity of the future use of the flooring. Categories 21, 22 and 23 are suitable for private use. The higher the number the higher the assumed intensity of use. Category 23 laminate floorings, for example, are ideal for the anteroom or for the kitchen. Categories 31, 32 and 33 are ideally suitable for commercially used rooms. More intensive use or traffic is to be expected in such rooms. For example, category 33 is very suitable for a restaurant.